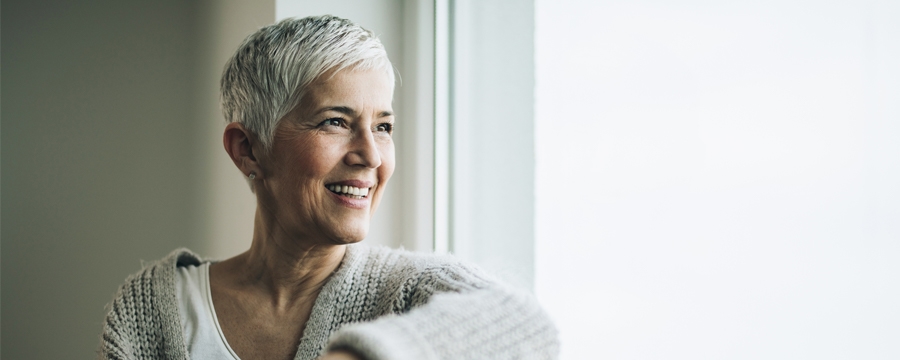 According to AARP, only 39% of women are confident they will have enough resources to live comfortably 25 years into retirement, compared to 54% of men.1
Women often juggle multiple responsibilities, which can make it challenging to plan for their financial future. At home, they may balance care for both kids and/or aging parents. Professionally, women often prioritize retirement savings behind covering daily costs and housing needs or paying off debt.
In the long run, challenging priorities can derail retirement savings and financial well-being. These tips can help you stay on track to achieve your financial goals.
1. Start saving as soon as you can
On average, women live 5 years longer than men, according to the Centers for Disease Control and Prevention.2  So, their retirement savings will need to last longer.
Prioritizing your retirement goals early can help savings grow more over the long-term. In the chart below, the difference between the person who begins investing at age 35 versus the one who starts at age 55 is $335,178, even though the 55-year-old saves more per year, on average.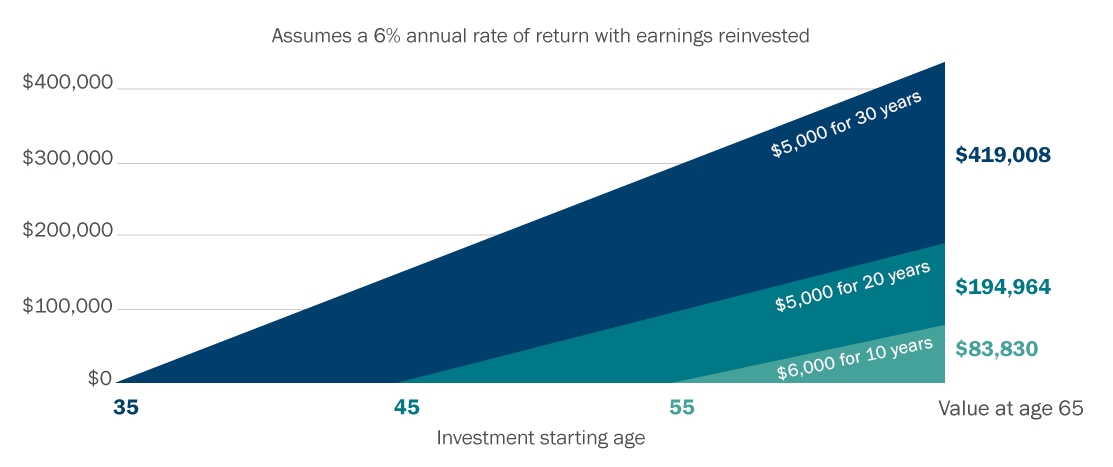 Source: Investment Returns Calculator, calculated for time horizon and annual contribution amount. The example is hypothetical and assumes a 6% annual rate of return. The figures do not reflect taxes, investment or product fees or expenses which would reduce the figures shown here or imply any guaranteed rate of return.
Saving earlier leads to the advantage of long-term compounding growth, which has a "rolling snowball" effect. Compounding pays you earnings on your reinvested earnings.
2. Seek opportunities to save more
Take time to review your finances and look for ways to save more for retirement. Consider these actions to set aside more money to invest:
Pay yourself first with a regular direct deposit from paychecks into your 401(k) or other retirement savings accounts.
Review your monthly expenses to ensure you're spending money on the things that are most important to you but also finding ways to increase savings.
Boost your savings with tax refunds, monetary gifts and raises or bonuses.
3. Invest wisely
Investing with intention and confidence can be one of the best ways to build savings and help you achieve your financial goals, including retirement. An Ameriprise financial advisor will develop a long-term investment strategy that can help you improve the growth potential of your investment portfolio over time while considering your:
Goals such as retirement, travel, home improvement and college for your children or grandchildren.
Time horizon to achieve your financial goals.
Risk tolerance, or your ability to ride out short-term market volatility for potential long-term gains.
4. Balance growth-oriented investments with more stable income sources in retirement
Because women are likely to outlive men, your retirement savings need to account for your potential longevity. By balancing growth-oriented investments with more stable income sources, your advisor will develop a strategy that considers the expenses that come over a longer lifespan.
Growth-oriented investments often include stocks, while stable income sources include:
Social Security benefits, which are available to you beginning at age 62, unless you meet certain requirements.
Annuities
Certificates of deposit through a bank, which earn a fixed interest rate.
5. Work with a financial advisor
A financial advisor can give you an outside perspective and help you focus on what's most important to you. In addition to understanding your goals, financial advisors consider how events in your career, personal life, the economy and the markets impact your overall strategy.
By offering professional tools and advice, your advisor can help you feel more confident about your financial future.
Why is it important for women to work with a financial advisor?
Women's financial goals are unique. We asked these Ameriprise advisors why women especially should consider working with a financial advisor who can offer personalized advice based on what matters most.